CALL IN LIVE AND JOIN THE CONVERSATION
(312) 985-7870
Troy Edwards is an Entrepreneur, Ministry/Industry Pace Setter, Apostle, and Community Partner, he is a leader among leaders. He is on a mission to build a Christian empire in Music and Entertainment, Mr. Troy Edwards aims to prove that Hip Hop can be utilized to positively inspire and restore morals and right living amongst youth of every community - globally. Mr. Edwards is CEO of 3HP Records (2011 INFERNO AWARDS WINNER LABEL OF THE YEAR), as well as graciously serving as a member of the NAACP, CEO 3HP Christian DJ and Mixtape Awards VP of EnSound music awards , Partner/Lead Promoter of Independent Gospel Alliance Conference,CEO of Indiemogul, Head A&R of Takeback Records (Urban Christian Label ) and Transform Music Group(Christian Rock Label). Mr. Edwards is also founder of GX-ATL (formerly Gospel Explosion ATL), a high profile independent gospel showcase that provides former secular artists and independent artists a platform to share their ministries.
Deanna Ransom: From the start of her music career until now, Deanna has grown – as an artist, as a woman and as a Christian. Even from her first CD to the second, she's matured. Her singing, her songwriting, is all a reflection of her trials and of the faithfulness of the One who brought her through. As much as she's hopeful that the songs on I Hear You inspire listeners, for her, the songs were meant to uplift her during a dark time. In spite of what life has thrown her way, Deanna has discovered a valuable lesson. "One thing I have learned is that when we give our lives to God, we get a blueprint," says Deanna. "No matter what happens in life, it's so important for us to stick to the blueprint of God."
Become A BuzzZin Advertiser/Sponsor TODAY!!!
CALL US TODAY (678) 792-8999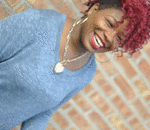 Posted By: Lutonya Lang
Thursday, January 5th 2012 at 1:09AM
You can also
click here to view all posts by this author...