by Ayvaunn Penn, Your Black World
In South Africa, Oprah Winfrey opened the Oprah Winfrey Leadership Academy for Girls in 2007. She speaks often of how she "loves her girls" referring to them as her daughters. Now she is taking her relationship with her girls to a new level — teacher to student. According to reports from ContactMusic.com, Winfrey "will be teaching a lesson entitled 'It's Life 101′ to the pupils at the school this autumn in the hope of advising them how the world works. Concerning her new role in the classroom, Oprah states:
"[It] should be fun since I love to teach. And they're like sponges. Like 12th graders everywhere, this first class is both anxious and excited about going to college….Most will be the first in their family. So it's a very big deal for them, and they're feeling the pressure."
College is not the only thing Winfrey would like to inform her girls about. She also wants to enlighten them on what they can expect as teenagers blooming in to young adults. Winfrey wrote on her Facebook page, "I love being with them and talking to them about all things important. When I'm there I'm talking from the time I get up till I go to bed, about EVERYTHING teenage girls are going through. It's the same all over the world."
This is a part of Ayvaunn Penn's Black And Making It series. She is also a spoken word artist and an award winning writer completing her degree in English and philosophy. For more of her witty-word works click here.
Source:
http://bit.ly/oTIlWB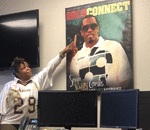 Posted By: Elynor Moss
Friday, July 8th 2011 at 5:50PM
You can also
click here to view all posts by this author...