(Clickz) Eight percent of adult U.S. Internet users now use Twitter, representing six percent of the overall U.S. population, according to research conducted by the Pew Research Centerís Internet & American Life Project.
The survey, the results of which were published today, questioned a sample of over 2,250 nationally representative respondents, and also concluded African-American and Hispanic users are over twice as likely to make use of the social network compared with white users. 18 percent of Hispanic respondents and 13 percent of black respondents said they use the service, compared with 5 percent of white respondents, suggesting it has far greater penetration among non-white audiences, although those audiences are likely smaller.
The research also found, perhaps unsurprisingly, that 18- to 29 year-old users are the widest adopters of Twitter, with 14 percent in that age range claiming to use it, compared with seven percent of 30- to 49-year-olds, six percent of 50- to 64-year-olds, and 4 percent of users over 65.
Urban residents meanwhile are twice as likely to use Twitter as rural dwellers, and users with at least some college education are roughly twice as likely to make use of it compared with those with a High School diploma. The survey also identified a potential gender discrepancy in the Twitter's audience, with 10 percent of female users claiming to use it compared with just seven percent of men.
Source:
http://tinyurl.com/6y9lnwl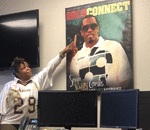 Posted By: Elynor Moss
Friday, July 8th 2011 at 3:52PM
You can also
click here to view all posts by this author...