National awareness campaign highlights need for more bone marrow donors during
July's African American Bone Marrow Awareness Month
MINNEAPOLIS – June 28, 2011 – Tionne "T-Boz" Watkins rose to fame as an actress, singer and member of the popular 90s musical group TLC – all while quietly battling sickle cell disease. Now, she is lending her famous voice to encourage people, especially those in the African American community, to join the Be The Match Registry® as potential bone marrow donors and help others – like 11-year-old Imani Cornelius – fight similar life-threatening diseases.
Watkins has partnered with Be The Match® on two public service announcements. The PSAs will hit the airwaves and the Internet in July, which is African American Bone Marrow Awareness Month. Donor registry drives will also take place nationwide throughout the month.
"As a person with sickle cell disease and an advocate for everyone fighting this disease, I was naturally drawn to Be The Match," Watkins said. "Unfortunately, myths about bone marrow donation keep many people from joining the Be The Match Registry and potentially saving a life. That is why I am passionate about encouraging everyone to learn the facts about bone marrow donation through these PSAs. We need more African Americans to step up."
A bone marrow transplant can be a cure for someone with sickle cell disease or other illnesses like leukemia and lymphoma. Most patients who need transplants do not have a match in their family and depend on the Be The Match Registry to find a match.
But many African Americans and other minorities can't find marrow donors – like Imani Cornelius, of Minneapolis. Imani was recently diagnosed with myelodysplastic syndrome (MDS) and her only hope for a cure is a bone marrow transplant. Her doctors continue to search the Be The Match Registry for a matching donor, but that search has not been easy as Imani is biracial.
Right now, the chance of finding a match on the Be The Match Registry is close to 93 percent for Caucasians, but for African Americans and other minorities, the chances can be as low as 66 percent.
The tissue types used for matching patients with donors are inherited, so patients are most likely to find a match within their own racial or ethnic heritage. There are 9 million people on the Be The Match Registry, but only 7 percent are African American.
Jonathan Nazeer, of Greensboro, N.C., saw firsthand the need for more African American donors when his friend was searching for a match. Jonathan joined the registry in 2006 on her behalf. Just a few years later he was called to donate to a 52-year-old woman battling a rare disease.
"Donating is life-changing, not only for the individual who is receiving the transplant, but even for you. To know that you may have played a small part in actually saving someone's life is extremely fulfilling," said Nazeer, who was recently contacted again as a match for an 18-year-old boy.
While the number of transplants that the NMDP facilitates for African American patients has doubled since 2004, more people of African American descent are urgently needed on the Be The Match Registry so that more lives can be saved.
"We have made great strides in expanding the number of patients and the range of diseases that can be treated with bone marrow transplants," said Jeffrey W. Chell, M.D., chief executive officer of the National Marrow Donor Program® (NMDP), which operates the Be The Match Registry. "But we need more volunteers – from every ethnic and racial background – to meet the ultimate challenge of helping every patient find a life-saving donor."
About Be The Match®
Be The Match is a movement that engages a growing community of people inspired to help patients who need a marrow or umbilical cord blood transplant from an unrelated donor. The National Marrow Donor Program (NMDP), a leader in the field of marrow and cord blood transplantation, created Be The Match to provide opportunities for the public to become involved in saving the lives of people with leukemia, lymphoma and other life-threatening diseases. Volunteers can join the Be The Match Registry – the world's largest and most diverse listing of potential marrow donors and donated cord blood units – as well as contribute financially to Be The Match Foundation or give their time. For more information, visit BeTheMatch.org or call 1 (800) MARROW-2.
Contact:
Catherine Scott
612-455-1719
cscott@psbpr.com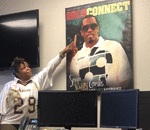 Posted By: Elynor Moss
Tuesday, June 28th 2011 at 4:31PM
You can also
click here to view all posts by this author...