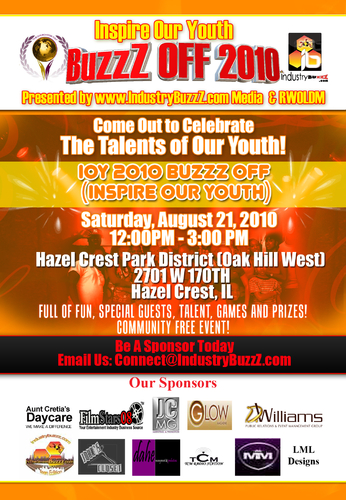 More Information to come
ONLINE Auditions HAS STARTED POST YOUR MUSIC OR VIDEOS UP TODAY ON
www.IndustryBuzzZ.com.
All participants must be a member of this family.
Same The Date!!!!
Looking for HOT NEW Talent.... ALL AGES ARE WELCOME>>>> Set Up Your Profile today on
www.IndustryBuzzZ.com
for our
www.IndustryBuzzZ.com
& RWOLDM Presents IOY 2010 BuzzZ OFF.
Looking for Dancers, tumblers, rappers, singers, musicians, spoken word artist and more... FIRST COME FIRST AUDITION SLOT
Must have a profile... up on the site.... Post your videos, music and more TODAY
FORWARD THE BUZZZ INSPIRATION IS ON THE MOVE<
CHECK OUT OUR TEEN EDITION
www.NTheStreetBuzzZ.com
Teen Media
Current Partners:
John's Closet
LML Designs
www.NTheStreetBuzzZ.com
www.JCMGMarketing.com
www.Marketing-Ministry.com
RWOLDM (www.RhemaWordOfLife.com)
Aunt Cretia Daycare
P.I.N. Entertainment
Glow Magazine Online (www.glowmagazineonline.com)
Marketing-Ministry.com
TCM Radio
FilmStars08.com
DWilliams PR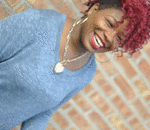 Posted By: Lutonya Lang
Tuesday, July 6th 2010 at 3:06AM
You can also
click here to view all posts by this author...