Home > News > Post Content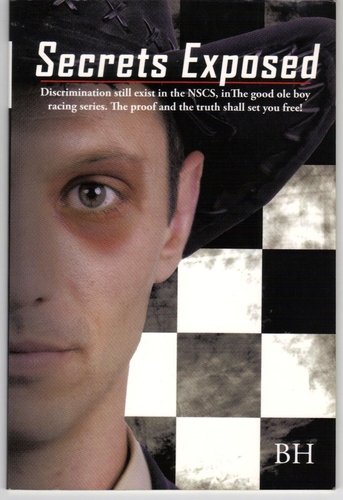 Its Official Manufactuers in Nascar Sued Today Behind the Book Secrets Exposed!get your free Preview of the Book go to Google& Type in Secrets Exposed Nascar thanks to tyler Perry and fans its large now,Remember People God is always ahead of the Devil! its time to tell people we are not going to take it any more Dr, king gave his life so we can have rights ,he had dream i had a dream to that I could be free to design something with out Racist people banning together,To keep blacks and other Minoritys out of there Sport ,We as Afro americans have became Selfish thinking of our Selfs but if it wasn't for dr,King we would still be in oppression,its time to take a Stand against all Racial injustice,we now have a afro American President ,We no longer have to Take a Back Seat to anyone! thanks to Dr,King!Remember that!
Posted By:
Thursday, June 3rd 2010 at 9:03AM
You can also
click here to view all posts by this author...
It's about time .....someone did something about those crooks...
Friday, August 13th 2010 at 1:04PM
Ted HigginBotham
have you heard the latest Companies who Was Mentioned in the Book Are Closing,&Selling off there Companies,Having Liquidation Sales after they were Sued
Wednesday, September 15th 2010 at 11:35AM
David Right
Thank God...about time justice was served. I think that someone having TV
appearances should have you and the guy, Leonard T. Miller, appearing on a show to give you guys a chance to tell the world about this NASCAR situation. Before your book no one even knew what NASCAR was all about...
Thursday, September 30th 2010 at 9:33PM
Ted HigginBotham
Your Right and if Tyler Perry is Reading this Maybe he could make that happen with his Buddy Tavis Smily,because its about time,we are no longer living in the 60's or 70's we can now talk about,"Racism" it still plays a major part in America,A Couple of Months ago ,I remember Sitting Down Playing an Onlne Video,Game,it was "Nascar 09",I heard A white Man Call a 6yr old Kid a *****,I was in Shock and "AH",I said WOW" This Really bought home the Truth against Nascar ,You have People that work for Nascar Playing Those Video games Not one of them Said anything to the Guy For Calling the 6yr old kid a ***** ,I was Disgusted and Made as Hell,I had to Get in the guys Ass,I Also heard a White Guy Call Another Kid A
***** two days ago, All of this Goes to Show you Anyone Involved with Nascar is Racist,Even just playing a Simple Video Game,Rednecks will call your kids a ***** in a Blink of an Eye,so Everything in that Famous Blackeye Secrets Exposed Book is True,People in Nascar will even Call your Kids a *****,in HEARTBeat,behind Closed Doors,So Parents make sure you are Monitoring your Kids if there Playing that Video Game "Nascar 09"
Saturday, October 2nd 2010 at 8:33AM
David Right
Your Right and if Tyler Perry is Reading this Maybe he could make that happen with his Buddy Tavis Smily,because its about time,we are no longer living in the 60's or 70's we can now talk about,"Racism" it still plays a major part in America,A Couple of Months ago ,I remember Sitting Down Playing an Onlne Video,Game,it was "Nascar 09",I heard A white Man Call a 6yr old Kid a *****,I was in Shock and "AH",I said WOW" This Really bought home the Truth against Nascar ,You have People that work for Nascar Playing Those Video games Not one of them Said anything to the Guy For Calling the 6yr old kid a ***** ,I was Disgusted and Made as Hell,I had to Get in the guys Ass,I Also heard a White Guy Call Another Kid A
***** two days ago, All of this Goes to Show you Anyone Involved with Nascar is Racist,Even just playing a Simple Video Game,Rednecks will call your kids a ***** in a Blink of an Eye,so Everything in that Famous Blackeye Secrets Exposed Book is True,People in Nascar will even Call your Kids a *****,in HEARTBeat,behind Closed Doors,So Parents make sure you are Monitoring your Kids if there Playing that Video Game "Nascar 09"
Saturday, October 2nd 2010 at 8:33AM
David Right
I thought the Jim Crow era was eradicated...
Tuesday, October 5th 2010 at 9:53AM
Ted HigginBotham
It's about time somebody had the balls....
Monday, January 24th 2011 at 1:20PM
Ted HigginBotham
News Home