Home > News > Post Content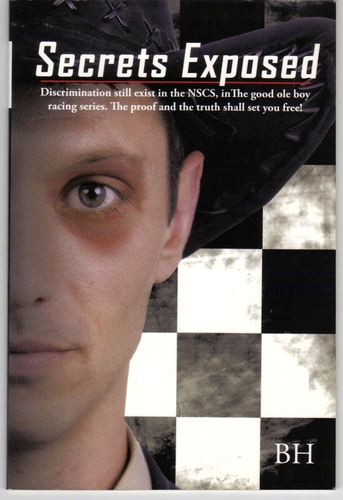 This is a Big thank you To Tyler Perry & Tyler Perry Fans.Com ,The Secrets Exposed Famous BlackEyE Book against Nascar,is Now on Nascar.com ,Nascar Figured they could Keep hiding the Truth about Racism And stealing From Afro Americans &From the World ,But Now its No longer a Secret and Nascar is so ashamed there Speechless about this book Now There Fans Know to,However People when you No something is true, is when people don't even bother to defend themselfs ,Now thats Embarrassing ,when you have got Caught Red handed with your Hands in the Cookie Jar, Now all Minoritys Should think about this the Next time before buying a Nascar ticket,Nascar just wants Minority Money from tickets sales thats all ,Nascar was Busted in the Secrets Exposed Book For everything up above and thats,Racism at its best! The Secrets Exposed booK is now available on Digital Ebook Format,Get it today Learn the Truth about Nascar!
Posted By:
Tuesday, April 27th 2010 at 3:20PM
You can also
click here to view all posts by this author...
Thanks to you; and thanks TP and fans for reading Secrets Exposed, but I want them to remember the plight of Wendell Scott-----they can never forget yours, maybe this will rekindle W S's image, that somehow has faded from the scene. With no black race car driver's, and black folks being robbed of inventions for the sport-----is this by design? It makes one wonder.
Tuesday, April 27th 2010 at 9:46PM
Ted HigginBotham
Will Mr higginbotham its said when the president of nascar Mike helton,and the owner of nascar has nothing to say about this book because there in the book several letters that were put in the book went out to them, and there in the Press release in 2007 not even three years ago this shows , Nascars guilt Not responding back because Nascar Knows there busted with there hands in the cooke jar,this isn't the Movie Grease lightening in the 50's where you could call some one a ***** an get away with it and then also taking there property,These people in Nascar really need a Reality Check because Nascar Should be embarrassed and thats why Nascar isn't committing on this book because there Busted ,Nascar's actual documents where published in the book so they can't denounce,book or Say its not true,because documents where published in the book for just that reason to bust all of them wide open from the Manufactors to the nascar Front offices all of them are busted,
Tuesday, April 27th 2010 at 10:27PM

I don't know that much about NASCAR but I do know they have sponsorship, why in the world would sponsors be involved with crooks? My entire family knows about and has read the book, and all are wondering why NASCAR's sponsors are not looking into the situation ----this is not the 50's or 60's. If your accusations weren't true, I doubt seriously, if a book could have been published.
Wednesday, April 28th 2010 at 1:22PM
Ted HigginBotham
How could a sponsor like Budweiser support NASCAR and they don't have any minority race car drivers----like it read in your book. I haven't seen any African Americans, maybe one, racing in their sport. Unbelievable.
Sunday, May 2nd 2010 at 11:34PM
Ted HigginBotham
Nascar has had only one Afro american in 38 years since Windell Scott and his name is Bill lester Will afro americans can Change a tire or a tail pipe,and that 's just what Nascar has done to Afro americans in 38 years ,given us a tail Pipe full of lies because of Racism,!
Wednesday, May 5th 2010 at 8:31AM

If Black folks loved Richard Pryor they had to love the movie he played "Wendell Scott-------why haven't you've had more support from them-----I mean like protesting in front of NASCAR Headquarter's.
Wednesday, May 5th 2010 at 8:33PM
Ted HigginBotham
well this book was just written for personal use to embarrass Nascar and wasn't really meant to be outed it was a personal note to me!,and what happen to me well its out Now! there's nothing like the truth,every book has its own flaws,
Thursday, May 6th 2010 at 11:26AM

"IT'S NOT HOW BIG A DOG IS, BUT IT IS THE SIZE OF THE FIGHT IN THE DOG" I took this quote from your book, and I think young black inventors entering this 'game' would definitely be able to use it. If they should ever be in a position to invent something that is devastating, and the first of its kind. Hopefully whatever they might invent won't be stolen like so many other black investors. Someone from NASA calling you for information about your invention----is like a pride builder. Deep.
Thursday, May 6th 2010 at 6:41PM
Ted HigginBotham
Mr Hatten,
I just wanted you too know that the press release in the back of your book was very powerful.
Thursday, May 6th 2010 at 6:50PM
Ted HigginBotham
Thanks again ted higginbotham for being one of my supporters May God Bless you,and keep you!thank you!
Thursday, May 6th 2010 at 7:42PM

No, thank you-----what else are black brother's for----unity! No offense to other ethnicities----most likely, y'all are united. Keep the faith Mr. Hatten.
Thursday, May 6th 2010 at 11:38PM
Ted HigginBotham
News Home